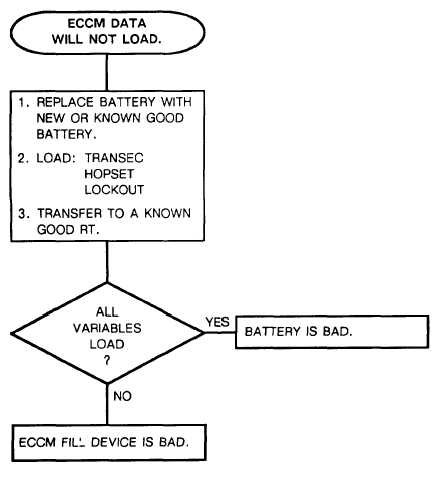 TM   11-5821-333-12
Section VI. SERVICE, MAINTENANCE, AND TROUBLESHOOTING
ECCM FILL DEVICE
Subject
Para
Page
Maintenance Procedure . . . . . . . . . . . . . . . . . . . . . . . . . . . . . . . . . . . . . . . . . . . . 6-33
6-55
Operational Check . . . . . . . . . . . . . . . . . . . . . . . . . . . . . . . . . . . . . . . . . . . . . . . 6-32
6-55
PMCS for Fill Device . . . . . . . . . . . . . . . . . . . . . . . . . . . . . . . . . . . . . . . . . . . . . . 6-29
6-54
Preliminary Servicing and Adjustments for ECCM Fill Device . . . . . . . . . . . . . 6-28
6-54
Troubleshooting Flowchart . . . . . . . . . . . . . . . . . . . . . . . . . . . . . . . . . . . . . . . . . . 6-31
6-54
Troubleshooting Procedures . . . . . . . . . . . . . . . . . . . . . . . . . . . . . . . . . . . . . . . . 6-30
6-54
6-28. PRELIMINARY SERVICING AND ADJUSTMENTS FOR ECCM FILL DEVICE.
A hold up battery must be installed in the ECCM fill device before it can be used. Refer to paragraph 6-33 for the
procedure.  There  are  no  other  preliminary  services  or  adjustments.
6-29. PMCS FOR FILL DEVICE
There  is  only  one  scheduled  PMCS  procedure  for  the  ECCM  fill  device;  replace  the  holding  battery,  BA-1372,
every  six  months.  Record  installation  or  replacement  date  on  holding  battery  cover.
6-30. TROUBLESHOOTING PROCEDURES.
The ECCM fill device is used to store hopsets, lockout sets, and TRANSEC variables. These are then transferred
to an RT. If an ECCM fill device will not do this with a good battery installed, it is faulty. It should be turned in for
repair.
6-31. TROUBLESHOOTING FLOWCHART.
6-54