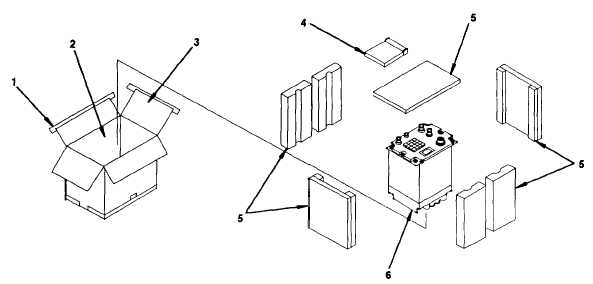 TM   11-5821-333-12
d.
e.
f.
g.
h.
Remove  packing  (5).  Discard  unusable  packing.  Turn  reusable  packing  material  into  supply.
Lift  out  component  (6)  (RT  shown).
Inspect  the  equipment  for  damage  incurred  during  shipment.  Report  any  damage.
Check  the  equipment  against  packing  slip  to  see  if  shipment  is  complete.  Report  all
Check  to  see  whether  the  equipment  has  been  modified.  Refer  to  DA  PAM  25-30.
discrepancies.
SEQUENCE  FOLLOWED  WHEN  UNPACKING  EQUIPMENT
6-6.  INSTALLATION  INSTRUCTIONS.
a.
b.
c.
Install   the   radio   set   in   an   aircraft   that   has   been   wired   to   accept   it.   Refer   to   applicable   aircraft   system
maintenance  technical  manual  for  wiring  details.
Record installation date. Record on INSTALLATION/REMOVAL DATA plate on top of RT, RCU, and DRA.
Install  individual  radio  set  components  using  repair  procedures  in  section  V  of  this  chapter.
INSTALLATION/REMOVAL  DATA  PLATE
6-2