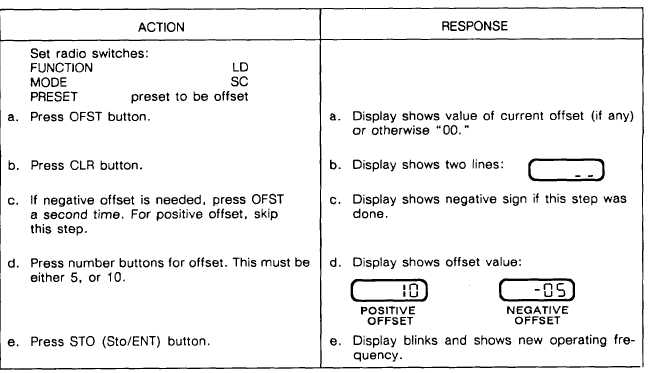 TM   11-5821-333-12
2-15. CLEARING A FREQUENCY.
Clearing  frequencies  (MAN,  CUE,  SC)
a.  Set  FUNCTION  to  LD,  MODE  to  SC,  PRESET  to  where  frequency  is  to  be  cleared.
b.  Press  FREQ;  then  press  CLR.
c.   Press   LOAD   (H-Ld);   then   press   STO   (Sto/ENT).
d.  Set  FUNCTION  to  SQ  ON  (or  normal  operating  position).
2-16. LOADING AN OFFSET FREQUENCY.
An  operating  frequency  can  be  offset  by  +5  or  +10  kHz.
NOTE
Use  frequency  offsetting  if  you  experience  the  effects  of  jamming.
2-17.  CLEARING    AN  OFFSET  FREQUENCY.
This  is  the  same  as  loading  an  offset  except  zero  (0)  is  loaded  instead  of  5  or  10.
2-10