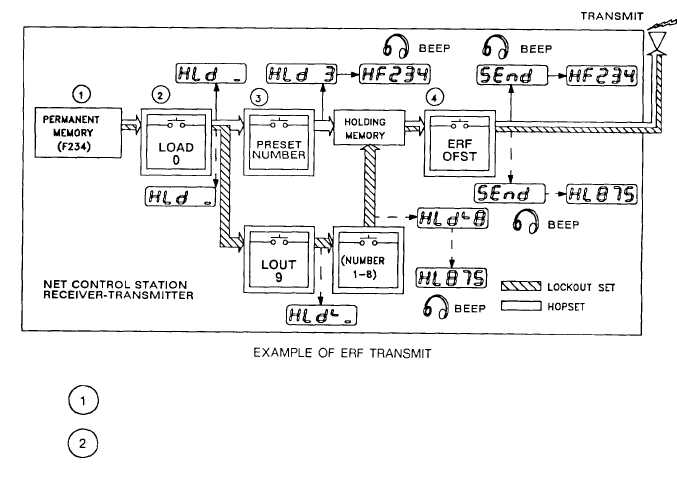 TM   11-5821-333-12
1-19. LOADING OPERATING DATA.  

Continued
A fill device is connected to the RT FILL connector using a fill cable. It contains lockout set
L875.  It  also  contains  hopset  F234.  The  two  must  be  loaded  separately.  The  following  de-
scribes  lockout  set  loading.
Press  the  button  LOAD  (H-Ld).  When  pressed,  this  button  lets  the  data  go  from  the  fill  de-
vice to the holding memory (HM). The display shows LOAd. It then changes to HL875 and a
beep is heard. The H means lockout set L875 is in the HM. While the data is in HM, the display
shows  HL875.  It  blinks  every  7  seconds,  A  beep  is  heard  with  each  blink.
Press the button STO (Sto/ENT), This lets the lockout set go into permanent memory (PM).
The display shows StoL8, blinks, and shows StoL8 again. A beep is heard when the display
blinks.  The  800-series  (L8)  lockout  set  is  now  stored  in  the  PM.
There is little difference between lockout set and hopset loading. When a hopset is being loaded and STO (Sto/
ENT) is pressed, the display shows Sto_.
The line on display means another keyboard entry is needed. The oper-
ator must tell the RT in which preset the hopset is to be stored. This is done by pressing a number button. The line
on  display  then  changes  to  the  preset  number.  The  hopset  is  then  in  PM,
transmits lockout sets and hopsets to net member stations. The following drawings show what typically happens
during ERF. They show hopset and lockout set ERF. (The displays in the drawings are examples and the numbers
may  differ  from  those  seen  during  actual  ERF.  )
c.  Recieve  and  Store  Electronic  Remote  Fill  (ERF).    

Using  this  method,  the  net  control  station  (NCS)
The NCS RT PM has hopset F234 stored in it, It must be moved into the HM before it can be
sent  (transmitted).  This  is  called  "  retrieve.  "
To  retrieve  a  hopset,  the  NCS  operator  first  presses  button  LOAD  (H-Ld),  The  display
shows Hid_. The line on the display means another keyboard action is needed. The operator
must  tell  the  PM  in  which  preset  F234  is  stored.
1-15