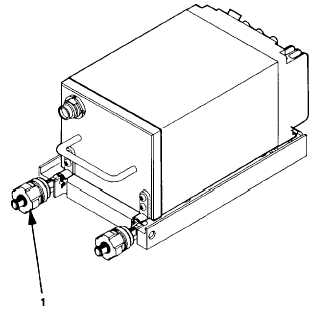 TM   11-5821-333-12
6-22. REPAIR OF RT-1477, RT-1477A, RT-1478, AND RT-1478A ON MT-6374 MOUNTING
BASE.
This  task  covers:
a.   Removal/installation
b.  Repair
INITIAL  SETUP
Tools
Tool   Kit,   Electronic   Equipment,   TK-101/G
General Safety Precaution
WARNING
An ungrounded helicopter may store a static electric charge. Ground helicopter electrically and
turn power off before performing any maintenance. Serious burns or electrical  shock can result
from  contact  with  exposed  wires  or  connectors.
REMOVAL/INSTALLATION
1. REMOVE RT.
a.
b.
Loosen  clamps  (1)  securing  RT  to  mounting
base.
Remove  cables  from  RT.  Tag  cables,  if  not  al-
ready   marked,   for   reinstallation,
2.  INSTALL  RT.
a.  Connect  cables  to  RT.
b.  Place  RT  on  mounting  base.
c.   Tighten   clamps   (1).
6-46