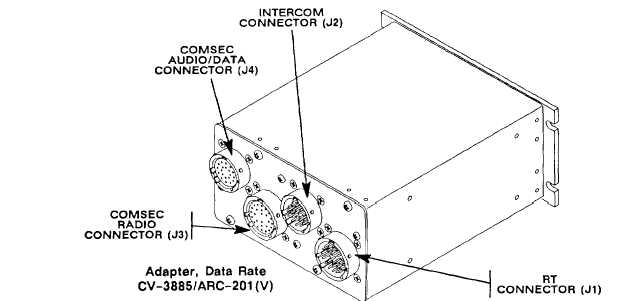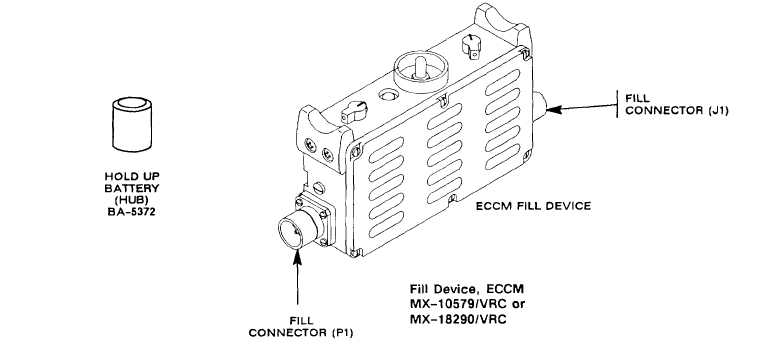 TM   11-5821-333-12
1-9.  DESCRIPTION  OF  MAJOR  COMPONENTS.  

Continued
The  Adapter,  Data  Rate  CV–3885/ARC-201(V)  provides  interface  between  the  AN/ARC-201(V)  RT  and  analog
data  devices  such  as  TACFIRE.  It  conditions  data  signals  to  the  16  kb/s  digital  rate  required  by  the  RT.  It  also
interfaces with the KY-58 COMSEC equipment. The adapter controls the operating mode of the RT and KY-58 to
establish  digital  or  analog  operation.  The  radio  connector  on  the  data  rate  adapter  (DRA)  connects  to  the  RT
either  directly  or  through  the  Z-AHQ  COMSEC  interface  adapter.  The  intercom  connector  connects  to  the  inter-
com  either  directly  or  through  the  Z-AHQ  COMSEC  interface  adapter.  The  COMSEC  radio  and  audio/data  con-
nectors  on  the  DRA  connect  to  the  KY-58  COMSEC  equipment  (if  used).
The   Fill   Devices,   ECCM   MX-10579/VRC   and   MX-18290/VRC   store   frequency   hopping   fill   data.   The
MX-10579/VRC is used with RT-1476, RT-1477, and RT-1478RT. The MX-18290/VRC maybe used with all RTs.
The ECCM fill devices can receive fill data from another ECCM fill device. Thirteen FH hopsets or lockout sets and
two TRANSEC variables may be loaded into memory. TRANSEC variables are loaded into Non-lCOM radio sets
only.
1-7