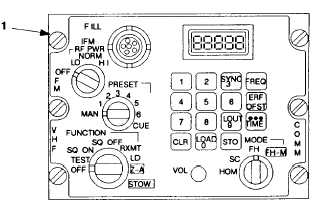 TM   11-5821-333-12
6-20. REPAIR OF RT-1476 AND RT-1476A.
This  task  covers:
a.   Removal/Installation
b.  Repair
INITIAL  SETUP
Tools
Tool   Kit,   Electronic   Equipment,   TK-101/G
General  Safety  Precaution
WARNING
An ungrounded helicopter may store a static electric charge. Ground helicopter electrically and
turn power off before performing any maintenance. Serious burns or electrical shock can result
from  contact  with  exposed  wires  or  connectors.
REMOVAL/INSTALLATION
1. REMOVE RT.
a.  Loosen  six  fasteners  (1).
b.  Pull  RT  out  far  enough  to  reach  its  back.
c.  Disconnect  cables  from  RT.  Tag  cables,  if  not
already   marked,   for   reinstallation.
d.  Lift  RT  out  of  panel,
2.  INSTALL  RT.
a.
b.
c.
Position  RT  in  panel  to  reach  mating  cables.
Connect  cables  to  RT.
Tighten  six  fasteners  (1).
6-42