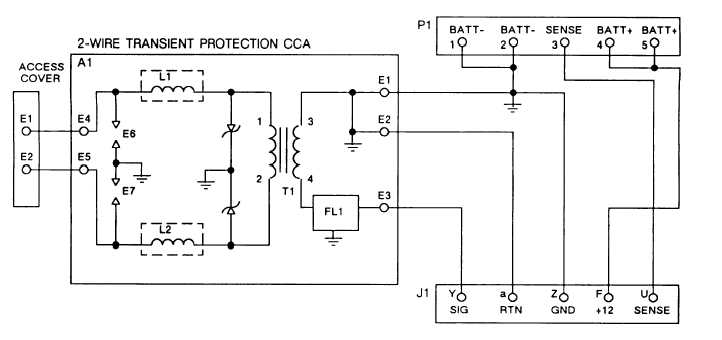 TM 11-5820-890-30-5
Section  Ill.  TROUBLESHOOTING  PROCEDURES
Subject
Para
Page
General . . . . . . . . . . . . . . . . . . . . . . . . . . . . . . . . . . . . . . . . . . . . . . . . . . . . . . . . . . . . . . . . . . .8-6
8-2
Troubleshooting . . . . . . . . . . . . . . . . . . . . . . . . . . . . . . . . . . . . . . . . . . . . . . . . . . . . . . . . . . .8-7
8-2
Explanation of Symbols and Notes . . . . . . . . . . . . . . . . . . . . . . . . . . . . . . . . . . . . . . . . . .8-8
8-3
Troubleshooting Flowcharts . . . . . . . . . . . . . . . . . . . . . . . . . . . . . . . . . . . . . . . . . . . . . . . . . . .8-9
8-4
8-6.
GENERAL.
This  section  provides  the  troubleshooting  procedures  used  to  isolate  a  defective  battery  box.  The  trouble-
shooting information is presented in the form of a flowchart. This chart will systematically check for faults in the
battery  box.
8-7.
TROUBLESHOOTING.
Troubleshooting  is  done  on  a  faulty  battery  box.  The  steps  to  determine  if  a  battery  box  is  faulty  and  how  to
troubleshoot  it  are  as  follows:
a.
When a battery box is received from unit maintenance, inspect it for damage.  

Repair any damage
before  proceeding  with  testing.  See  section  IV  if  repairs  are  necessary.
b.
Troubleshoot the battery box using the flowchart.  

It will identify the defective electrical components.
c.
Replace  the  defective  components  using  the
d.
Verify  the  repair.  

Perform   the   troubleshooting
battery  box  can  be  returned  for  use.
procedures in section IV.
flowchart  again.  When  the  flowchart  is  passed,  the
Figure  8-1.  Battery  Box  Schematic  Diagram.
8-2