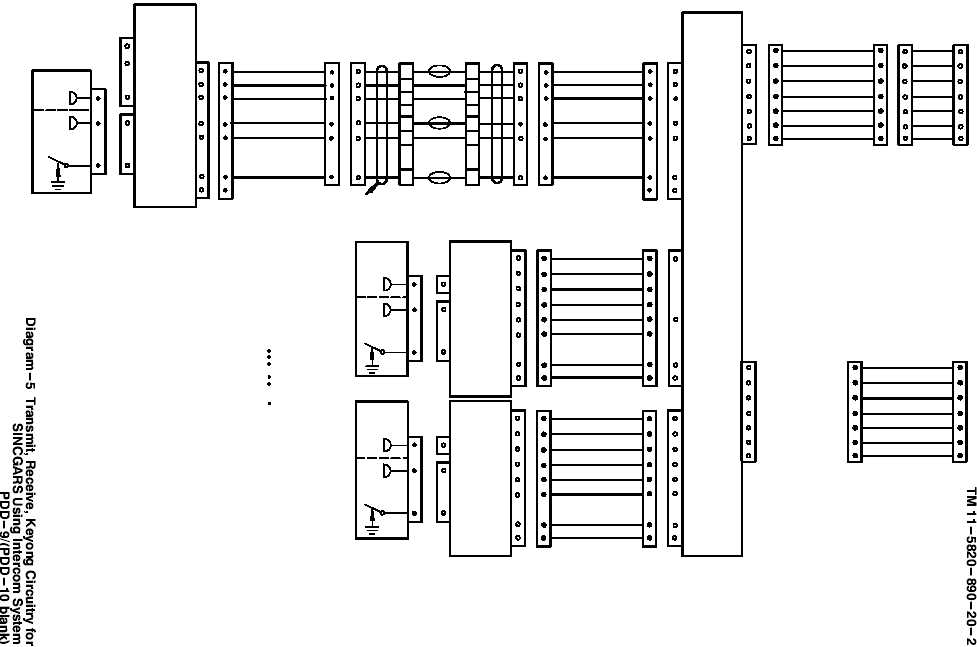 M
RT A PTT
RT A VAR AUDIO
FIXED AUDIO
POWER IN
RT A XMT
RT A PTT
RT A VAR AUDIO
FIXED AUDIO
POWER IN
RELAY CONTROL
POWER IN
RELAY KEYING
PTT
VAR AUDIO
FIXED AUDIO
AUDIO XMT
CX-13300
RELAY CONTROL
POWER IN
RELAY KEYING
PTT
VAR AUDIO
FIXED AUDIO
AUDIO XMT
C
B
D
S
M
K
U
CX-13300
RT B PTT
RT A PTT
RT B VAR AUDIO
RT B AUDIO XMT
RT A VAR AUDIO
FIXED AUDIO
POWER IN
RT A AUDIO XMT
RT B PTT
RT A PTT
RT B VAR AUDIO
RT B AUDIO XMT
RT A VAR AUDIO
FIXED AUDIO
POWER IN
RT A AUDIO  XMT
(CREWMEMBER)
C-2298/VRC
J501
CX-13313
J-801
J-802
J-803
J-802
1.  RADIO SUBSYSTEM CAN CONSIST OF
AN/VRC-89, AN/VRC-90, OR AN/VRC-92.
TWO OR MORE SYSTEMS MAY BE
INSTALLED IN THE SAME VEHICLE.
RT A MAY BE PART OF ANOTHER RADIO.
2   THE TURRET, HULL, DRIVER, AND OUTSIDE
BENDIX CONNECTORS ARE GROUNDED AT
PIN N.  ALL OTHER CIRCUITS ARE
GROUNDED AT PIN A OF EACH CONNECTOR.
THESE GROUND PINS ARE NOT SHOWN ON
THE SCHEMATIC.
3.  RESISTANCES  ARE IN OHMS
4.  THE PTT LINE IS THE ONLY ONE CONNECTED
IN THE CX-13314/VRC CABLE.  THIS ALLOWS
FOR REMOTE KEYING.
PUSH-TO-
TALK
AUDIO
ACCESS-
ORIES
(COMMANDER)
C-2298/VRC
PUSH-TO-
TALK
AUDIO
ACCESS-
ORIES
C
D
D
C
D
D
J
V
M
L
C
F
D
K
HULL
BENDIX
CONNECTOR
V
L
C
F
D
M
J904
J902
PUSH-TO-
TALK
AUDIO
ACCES
SORIES
J901
P/O
H
K
C
D
D
CONTROL BOX
C 2297/VRC
(DRIVER)
A
B
E
D
L
F
A
B
E
D
L
F
A
B
E
D
L
F
MAIN
JUNCTION
BOX
RT A XMT
NOTES:
TO C-2297 (J904)
(J505,J506, OR J507)
FROM AM-1780
J804
J801/
J507
J506
J505
J804
J801/
144
463
160
TURRET
BENDIX
CONNECTOR
VEHICLE WIRING
JACK
TURRET
CX-7060
D
F
D
V
L
F
K
J504
CX-4723/VRC
CX-4723/VRC
C
B
D
S
K
U
C
B
D
S
K
U
J
V
M
L
C
F
D
K
J
V
M
L
C
F
D
K
J
V
M
L
C
F
D
K
M