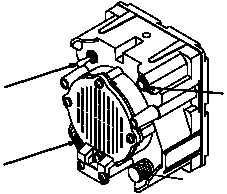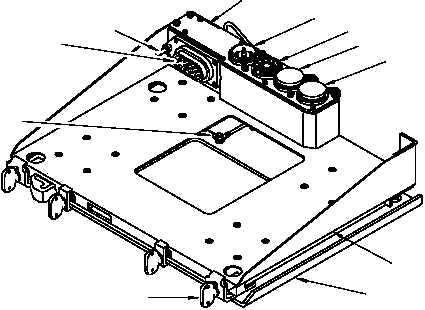 TM  11-5820-890-20-2
1-17
1.8.
DESCRIPTION OF COMPONENTS.

Continued
LOUDSPEAKER-CONTROL UNIT LS 671/VRC
VOLUME
HANDSET
CONNECTOR
ON/OFF
SWITCH CB1
INDICATOR LAMP
(DS1)
The Loudspeaker Control Unit LS 671/VRC is designed for vehicular installations and connects to the RT or
RCU through MB connectors J3 or J4. Connector J3 provides monitoring and transmission for RT A or RCU A.
Connector J4 provides monitoring and transmission from RT B or RCU B. The ON/OFF switch on the
loudspeaker can remotely control the operating power to the vehicular radio.
BASE
GROUND
STRAP
SYSTEM
CONNECTOR
(J5)
THUMBSCREW
AND CLAMP
TRAY
POWER OUT
CONNECTOR (J2)
(J4)
(J3)
POWER IN
CONNECTOR (J1)
CONNECTOR
ASSEMBLY
MOUNTING BASE, ELECTRICAL EQUIPMENT MT 6352/VRC
GUIDE
PIN
The Mounting Base, Electrical Equipment MT 6352/VRC (MB) holds the VAA. It also provides the electrical
interface to the vehicle power. The tray and base are connected by four shock mounts. Six internal ground
straps are used for grounding. The base is bolted to the shelf of the vehicle. The base has four thumbscrews
and clamps; two hold the VAA in place; two hold the lower RT or RCU in place. The guide pin and system
connector help aline the VAA or PSA. There are five connectors on the connector assembly in the back of the
MB. The system connector mates with the system connector on the VAA. The operating voltage (22 to 32 V dc)
from the vehicle's electrical system is connected to the power in connector, J1. A second MB or PA mount is
connected to the power out connector J2. The vehicle intercom or LS 671/VRC loudspeaker, for RT A or RCU A,
is connected to J3. The vehicle intercom or LS 671/VRC loudspeaker, for RT B or RCU B, is connected to J4.